Did Thursday night in the longhole (Carp-less as usual) and fished a rod to the left 50-60 yards. On reeling in, I thought I snagged the bottom, gave it some and pulled in this little beauty...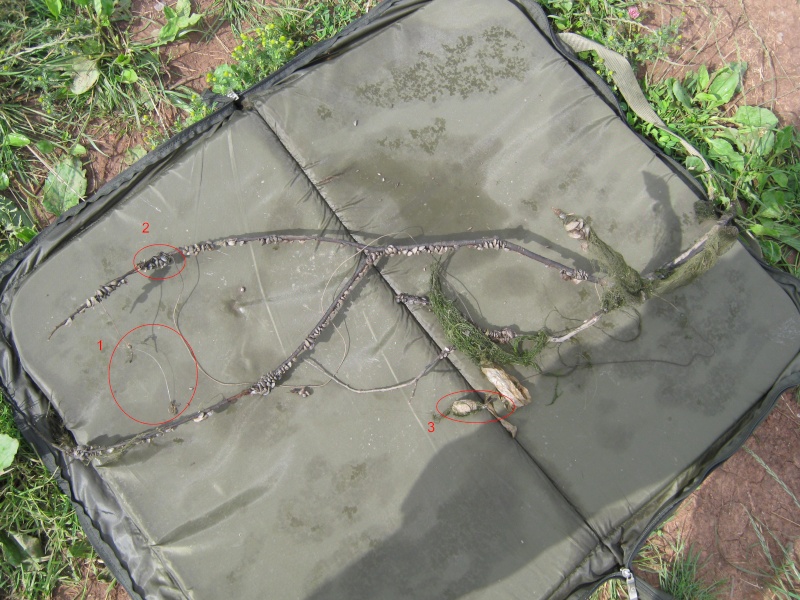 It looks like a chod rig variation on a long length on leadcore. I've numbered up the points of intrest...
1.
You can see the bead at the top left of the circle and the hoollink hanging below. Now this bead was free moving up and down the leadcore but couldn't pass over the tag end on the spliced loop setting the hooklength free.
2.
The leadcore is wrapped round the branch at least 5 times
3.
A 3oz lead is still attached.
You can also see that the branch is covered in mussels so Its been in there a while. I normally wouldn't mention it, putting it down as a one off, but the last session I fished before this one (over the otherside, tench bay I think), I landed a Bream trailing a rig and about 20 yards of mono all birds nested up.

Ryan

BREAM ANGLER





Posts

: 46


Join date

: 2009-01-30


Location

: Shitty Walsall



Thats the way Ryan, we need more posts of this nature. Hopefully these sort of subjects lead to change and make people see the error of their ways. They can only be a positive thing for the future of a great syndicate. Have a gold star son!

jimbo

CARP ANGLER





Posts

: 96


Join date

: 2008-04-20



Yep. Well said, Ryan. Who are these numpties who fish like this? If they'd bothered to turn up to the meeting we had, they could have learnt something from John Howard's speech.

I think it's time for the bailiffs to start REALLY checking rigs. For everyone. We can't have divvies fishing like this, otherwise, we're going to have dead fish.
I'm going to have a word about this tonight with Russ.

When the water was drained during the winter/spring, we found a host of dodgy chod rigs, where the stopper bead wouldn't pass over the leadcore loop/splice.

I reckon it's time to ban this stupid rig. If people can't be trusted, it's time to ban it.
bloody shocking rig that boys, yes people need to be told, I'm all for bailiffs doing spot rig checks. I also think that EVERY member should attend the next pub meeting, or have to pay up in some way! I appreciate not easy for people with kids or who live far away, but more effort needed!!

stokiepaul

CARP ANGLER





Posts

: 245


Join date

: 2008-04-16


Location

: NOT so much mooching these days!



I'm sorry. It's not like we're living in the 60s. There are magazines, programmes and DVDs that people can read or watch, in order to construct rigs that are both effective, and more importantly, safe (especially given the snags/weed in the Res).

It's about time that if you get caught with a rig like that, you get banned. Simples. Everyone had a chance to come to the meeting where John gave a talk about rig safety.

It's common sense, for fucks sake.

---
Permissions in this forum:
You
cannot
reply to topics in this forum